Your shopping cart is empty.
Good Study Bible January 30, 2014
I purchased my bible about 20 years ago and have spent many precious hours reading and studying it. I am now purchasing one for my stepson who is struggling in his faith. Believing God to minister to him through The Spirit-Filled Life Bible.
Review by Glynda
---
mostly helpful but one major negative September 18, 2013
I bought the Spirit-Filled life bible because my mom had one about 20 years ago and I love the word wealth and small explanations. If I had known that the bible would show preference to the Dispensational Interpretation and sprinkled it all throughout Revelation, I would not have bought it. It's not just that I disagree with this interpretation, I feel like you shouldn't have an interpretation right there next to the bible. There are many other things that the bible might be saying and I want to think for myself. My mom's spirit-filled life bible from the 80s gives a brief overview of all interpretations at the beginning of Revelation without showing preference to one or the other. I feel like the interpretation should be left to commentaries, not lurking at the bottom of every page of my bible. Please consider removing it from future editions.
Review by Kaylen
---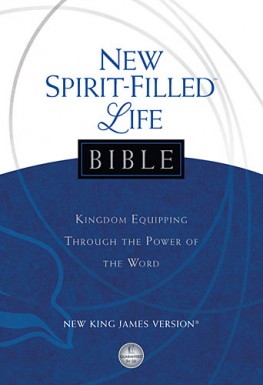 Details
Find the Holy Spirit throughout the Bible. Dr. Jack Hayford, founding pastor of The Church on the Way, has led a team of anointed leaders to produce the New Spirit-Filled Life Bible. Even after more than twenty years, the Spirit-Filled Life Bible offers a fresh look at the Scriptures and the work of the Holy Spirit. This Bible addresses important issues of Spirit-filled living in the context of solid biblical scholarship.
Features include:
Kingdom Dynamic—41 themes throughout the Scripture that give us values as we advance the gospel throughout the world
Word Wealth—More than 550 key terms defined and brought to life pulling the language from the original Greek and Hebrew to everyday English
Truth-In-Action—Practical charts pulling out practical application from every book of the Bible
Detailed book introductions to each of the 66 books of the Bible
Verse-by-verse study notes
Articles from 50 of the most respected pastors, teachers, and leaders in the church today
Spirit-Filled Life Bibles sold to date: More than 2 million
The New King James Version®—More than 60 million copies sold in 30 years
More Information
Translation
Length
2064 Pages
Features
Who it's for
Occasion

Birthday
Christmas
Easter
Father's Day
Graduation
Mother's Day

Publication Date
May 14, 2013
Company
ISBN-10
1418550396
ISBN-13
9781418550394
Height
9.5"
Width
6.5"