Your shopping cart is empty.
A New Favorite March 5, 2013
While I have yet to read a Tracy Higley book that I didn't like, I believe that So Shines the Night may be my favorite.

The characterization of both Daria and Lucas was multifaceted, insightful and realistic. I lived Daria's confusion as at every turn she was both drawn and repelled by the spiritual battle raging all around her. I resonated with her hope that no one was beyond redemption even as she struggled to discern the truth of the source of salvation. The historical details of life in Ephesus in 57 AD drew me into the setting. The struggles of humanity and the battle for souls in the Roman empire came alive as Higley married Biblical events with this fictional story of redemption and hope.

Filled with intrigue and suspense, woven into the one story that God has been authoring from the beginning of time itself, So Shines the Night, is not only an excellent novel it is an encouraging one. The book leaves you wide awake, looking anew at the redemption story in which each follower of Jesus Christ participates as we too shine the light.

I received a free digital copy of this book in exchange for my honest opinion.
Review by Rachelle
---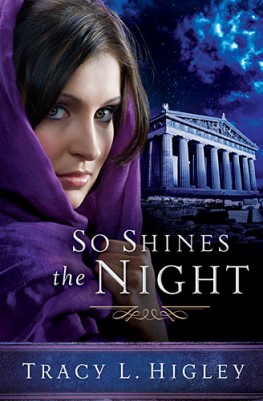 Details
On an island teetering at the brink of anarchy, Daria finds hope among people of The Way.
She escaped a past of danger and found respite in beautiful Ephesus, a trading center on the Aegean coast, serving as tutor to Lucas, the wealthy merchant who rescued her.
But the darkness she fled has caught up with her.
The high priests of Artemis once controlled the city, but a group of sorcerers are gaining power. And a strange group who call themselves followers of The Way further threaten the equilibrium. As Daria investigates Lucas's exploits into the darker side of the city, her life is endangered, and she takes refuge in the strange group of believers. She's drawn to Paul and his friends, even as she wrestles with their teachings.
When authorities imprison Lucas for a brutal crime, Daria wonders if even Paul's God can save him. Then she uncovers a shocking secret that could change everything—Lucas's fate, her position in his household, and the outcome of the tension between pagans and Christians. But only if she survives long enough to divulge what she knows.
"Meticulously-researched, spellbindingly written with luscious prose and compelling and complex characters." —Tosca Lee, New York Times best-selling author of Havah: The Story of Eve
More Information
Length
416 Pages
Publication Date
March 12, 2013
Company
ISBN-10
1401686826
ISBN-13
9781401686826
Height
8.2"
Width
5.5"