Your shopping cart is empty.
Good Read June 6, 2013
I really enjoyed this book. Overall it was a great read. Once you get past the opening chapters the story moves pretty quickly. The opening chapters can be hard to follow at times. I found myself having to re-read sections to understand what was going on. Also, keeping all of the characters straight can be difficult too. However, once you get past the initial confusion the story starts to make more sense.

There are several reference to God scattered throughout the book which didn't bother me at all. In fact, I actually enjoyed these. However, if you don't like books that involve divine intervention then this may not be a book you want to read. I loved this book because the way in which God is used to help the characters is very different from the conventional "God saves the day," book. This book definitely kept me engaged. I would definitely recommend you add it to your summer reading list.

I was provided a complimentary copy of this book from BookSneeze in exchange for an honest review. The full review can be found at http://fromfluff2fit.wordpress.com/2013/06/06/book-review-afloat-by-erin-healy/
Review by Bria
---
http://benzeknees.wordpress.com/2013/05/13/afloat-a-review/ May 13, 2013
Afloat by Erin Healy is about how a group of people react to a disaster. Danielle Clement and her son Simeon live in a complex of floating condominiums designed by Vance Nolan as a result of her relationship with Tony Dean, the developer. When a mysterious explosion cuts off the only building of occupied condos from the rest of the development as well as the mainland, the residents of the building, along with a few workers and visitors, cope in their own way and have to face the decision to stay or to go.

Review by Benzeknees
---
Story woven before sinkhole became a household word. May 7, 2013
I chose this book because it was written by Erin Healy and because I wanted to read a good book just for fun. I was a bit apprehensive that it was about or based on a sinkhole, but the summary promised that as a result of the sinkhole, the characters were stranded, cut off from the rest of the world and were divided on how to survive.

When I received the book, I immediately loved the cover with its glowing lights on the waves. I was enticed by Ted Decker's endorsement which promised "heart-pounding suspense" and "unrelenting hope that would steal my breath".

I jumped right in, but found it hard to get into because it was confusing for me. Although there was a map in the beginning of the book, I found it difficult to get a visual and wondered if I had any idea of what the author had in mind as she penned and created this tale. I had to completely start over after fifty pages or so.

Although I had to reread various passages throughout the book, I was still left with unanswered questions. I was confused about the paranormal creature, angel or perhaps living character as well as what the glowing creatures were in the water. Did the author mean to leave us wondering whether a character lived so she might create a sequel? I was also disappointed that the book did not deliver the "heart-pounding suspense" as promised.

In spite of my questions and difficulties, I enjoyed the history and pain that Vance had to overcome. I enjoyed the redemptive role of his mentor, Zeke, and how Vance was able to reach out and carry that mantle when the time came. I was inspired by the authors use of a passage from Psalm 119 which caused me to spend several days meditating on the passage and gain an appreciation for a chapter that I had previously mostly avoided.

I enjoyed the book well enough to want to finish it but am definitely interested in reading other reviews.

Review by Nellie Dee
---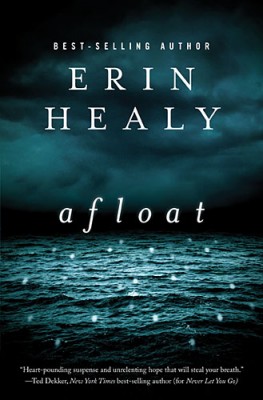 Details
Who will you trust when dark waters rise?
Eagle's Talon is an architectural marvel—shining residential units afloat in a protected cove of the gorgeous Rondeau River. The project is nearly complete, partially occupied, and ready to make investors rich when a sinkhole gives way. Then torrential rains and a flood leave a ragged collection of builders, investors, and residents stranded in one floating building, cut off from the rest of the world.
They're bitterly divided over what to do next.
Architect Vance Nolan insists they should sit tight and wait for rescue. Developer Tony Dean wants to strike out into the darkness. And single mom Danielle Clement, desperate to protect her young son, Simeon, struggles to hold their motley band together.
Power failure, a pall of unnatural daytime darkness, explosions in the distance, then a murder ratchet tensions to a boiling point. But Danielle's young son, Simeon, has spotted something strange underwater—beautiful, shifting lights in the dark water below.
In this watery world where everyone's secrets will eventually come to light, salvation may mean more than just getting out alive.
Another stunning exploration of the human spirit and supernatural possibilities from best-selling author Erin Healy.
More Information
Length
368 Pages
Publication Date
May 7, 2013
Company
ISBN-10
1401685528
ISBN-13
9781401685522
Height
8.2"
Width
5.5"