Your shopping cart is empty.
We are free in Christ August 14, 2012
Having grown up with legalism, I found this book to be a breath of fresh air. Though I've muddled my way through the aftermath of legalism's hold on me, there are still times I need a reminder of my freedom in Christ.

In Free Book, Brian Tome offers just such a reminder. Whatever it is that keeps us in bondage: disapproving or abusive parents, broken dreams or simply our own secret insecurities, Christ to release us from such bondage, and to provide us with the abundant life.

For the Christian who has fallen into routine and lost the joy of first love, this book is sure to provide sure-footed guidance back onto the path of freedom and peace.
Review by Deb
---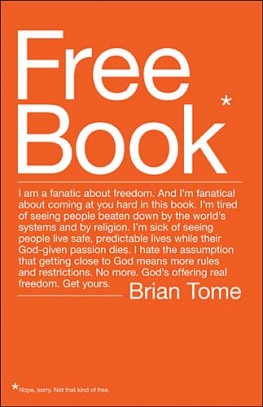 Details
"I am a fanatic about freedom. And I'm fanatical about coming at you hard in this book."

Maybe you're not as free as you think you are. Even worse, you may have been duped into believing that a "balanced" life is the key to happiness (it isn't) or that a relationship with God is about layering on rules and restrictions (nope).

Whether it's media-fueled fear, something a parent or teacher said that you just can't shake, or even the reality of dark spiritual forces bent on keeping you down, something is holding you back from the full-on freedom God intends for you.

The Bible says, "Where the Spirit of the Lord is, there is freedom." Not fear. Not guilt. Not morality. Freedom. You can have the sort of joy you thought only kids could have. The day of freedom is here.
More Information
Length
240 Pages
Publication Date
February 2, 2010
Company
ISBN-10
084992006X
ISBN-13
9780849920066
Height
8.3"
Width
5.4"