Your shopping cart is empty.
Hurry!! Friday, December 13 is the last day to order to ensure delivery by 12/24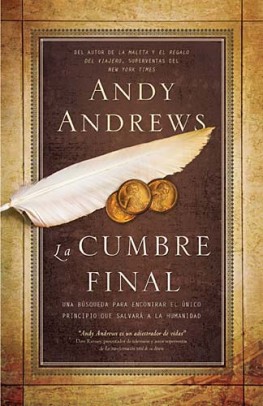 Details
David Ponder está de vuelta. Esta vez, el destino de la Humanidad está en sus manos.
Esta es la última oportunidad de la humanidad. Siglos de ambición, orgullo y odio han lanzado a la humanidad al desastre, y la han alejado de su propósito original. Sólo existe una solución para reposicionar la brújula y volver el navío a su curso, y consiste de dos palabras.
El tiempo se acaba y depende de David Ponder y de un reparto de las mejores y más brillantes mentes de la historia hallar la solución antes de que sea demasiado tarde. ¿El problema? Solo tienen cinco oportunidades para encontrar la respuesta.
Los lectores se encontraron con David Ponder en El regalo del viajero. Ahora, en La cumbre final, Andrews combina una narrativa fascinante con una asombrosa historia para mostrarnos la única cosa que debemos hacer cuando no sabemos qué hacer.
More Information
Length
224 Pages
Publication Date
February 28, 2012
Company
ISBN-10
1602555788
ISBN-13
9781602555785
Height
8.4"
Width
5.5"