Your shopping cart is empty.
Hurry!! Friday, December 13 is the last day to order to ensure delivery by 12/24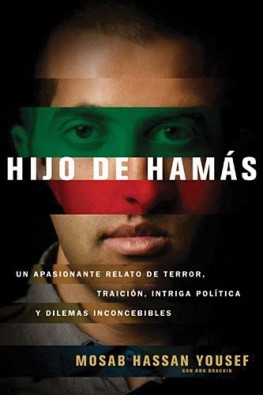 Details
Una conmovedora historia de terror, intriga política y decisiones impensables.
Hijo de Hamás es la conmovedora historia verdadera de un miembro del movimiento Hamás que rechazó su violento destino y ahora lo arriesga todo al exponer los secretos de la organización extremista islámica para mostrarle al mundo un camino hacia la paz. Mosab Hassan Yousef conoce este devastador grupo terrorista internamente desde que era un niño pequeño. Como hijo mayor de Sheikh Hassan Yousef, miembro fundador y el más famoso líder de Hamás, el joven Mosab ayudó a su padre por años en sus actividades políticas mientras era preparado para asumir su legado, ideología, estatus y poder. Pero todo cambió cuando Mosab dio la espalda al terror y a la violencia, y acogió en su lugar las enseñanzas de otro famoso líder del Medio Oriente. En Hijo de Hamás, Mosab Hassan Yousef, ahora con el nombre de "Joseph", da a conocer nueva información sobre la organización terrorista más peligrosa del mundo y revela la verdad sobre su propio papel, la dolorosa separación de su familia y de su tierra natal, la peligrosa decisión de hacer pública su nueva fe, y su creencia de que el mandato cristiano de "amar a tus enemigos" es el único camino hacia la paz en el Medio Oriente.
More Information
Length
272 Pages
Publication Date
July 5, 2011
Company
ISBN-10
1602554692
ISBN-13
9781602554696
Height
8.9"
Width
6"