Your shopping cart is empty.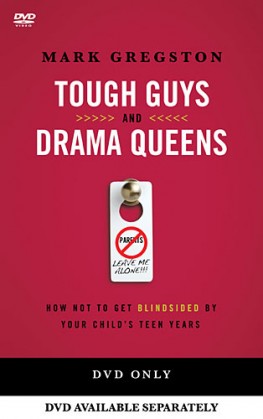 Details
Parents of preteens and teens can move from scared to prepared with a new approach to parenting their adolescents. Parents of preteens intuitively know that no matter how good their kids are, there is turbulence ahead. Many feel lost and unprepared as they watch the damaging effects of culture collide with their child's growing pains and raging hormones.
For the past 35 years Mark Gregston has lived and worked with struggling teens and knows what it takes to reach them. He says, "A parent's success has little to do with either the validity of their words or their intent as messengers; it's more about how they approach their child and engage with them."
This DVD-based study will explore what's so different about today's culture, why traditional parenting no longer works, and a new model for parenting teens.
Foundational and practical, Tough Guys and Drama Queens DVD answers the questions that parents are asking, helping them become the parents their children need them to be.
Features include:
9 teaching videos featuring Mark
Affordable DVD-only option
More Information
Length
200 Minutes
Occasion
Publication Date
January 1, 2013
Company
ISBN-10
1401677541
ISBN-13
9781401677541
Height
7.2"
Width
5.4"