Your shopping cart is empty.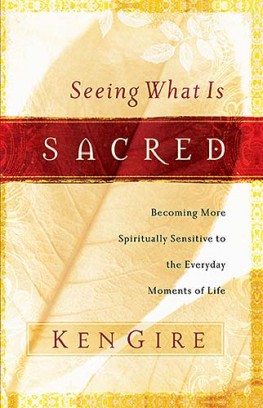 Details
Around us, there are hints that there is a way of life vastly richer and deeper than all this hurried existence, a life unhurried serenity and peace and power. A life where we see all that is sacred.
It seems the more we pack into our lives, the less we experience of our lives. We've become modern-day Marthas, busy, distracted, and empty, instead of like her sister Mary, calm, focused, and fulfilled. How do we, like Mary, create "pauses" in our days and weeks to hear what the Savior has to say to us? How do we make time for the things that ultimately matter? How can we become more spiritually sensitive to the everyday moments of life?
In Seeing What Is Sacred (formerly titled The Reflective Life), acclaimed writer Ken Gire unlocks the door to change by introducing us not to a trendy new method, but to a centuries-old tradition of seeing the sacred in the everyday through reflective living.
In this momentous work, readers will:
Discover this rich heritage that stretches from David, Solomon, and Jesus himself to Augustine, Brother Lawrence and Mother Teresa.
Learn "habits of the heart" that deepen their intimacy with Christ through Scripture, meditation, and prayer
Cultivate a spiritual sensitivity that allows them to see God at work in all of life's moments
More Information
Length
208 Pages
Publication Date
May 10, 2006
Company
ISBN-10
0849912687
ISBN-13
9780849912689
Height
8.2"
Width
5.4"