Your shopping cart is empty.
Imaginative setting: nanodust and wailing mitts April 21, 2012
Evan Angler's middle-grade novel Swipe takes place in the future when society has been through ecological upheaval, shortages, plague, and war. Leaders Lamson and Cylis have remedied all that with many innovations including the mark, a nano-dust arm tattoo every 13-year-old gets on his or her birthday.

I loved the book's setting which gives us Angler's answers to questions like, What if fuel runs out? What if land is at a premium? What if all the trees are dead? What if paper is rare to non-existent? What if people who think for themselves are seen as a threat?

Main character Logan is sympathetic and likeable, though a little wimpy. Strong girl Erin makes this a PC book that will help it pass muster with the feminists (and their mothers) in the crowd. The book's intended middle-grade audience will relate well, I think, to the dynamics between characters at school and in social settings, like a futuristic rock concert complete with wailing mitts.

The boyfriend-girlfriend angle bothered me a bit. Kids as young as Grade 3 ("ages 8 and up") will probably read this book, so scenes of kids fantasizing about relationships with the opposite sex, hugging and kissing with attendant thrills described, time spent alone in bedrooms with someone they 'like' (though nothing happens) seemed a bit more YA than mid-grade fiction to me.

The mark is an obvious reference to the Mark of the Beast from the Bible (Revelation 13:16-18), but other references to faith or a specific religion are pretty much absent. The book does explore themes of conformity, family, secrets, courage, loyalty, truth, and what the future could be like.

Swipe is a thoughtful, futuristic story that could spark a lot of discussion between kids and their parents, teachers, and friends.



Review by Nello
---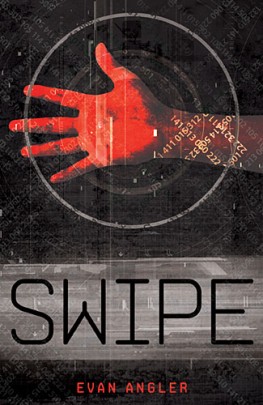 Details
"Apocalyptic dystopian fiction at its best. Angler's sharp wit and dexterity with political themes are matched only by the thrilling suspense on every page." —Lis Wiehl, New York Times bestselling author and FOX News correspondent
Everyone gets the Mark. It gives all the benefits of citizenship. Yet if getting the Mark is such a good thing, then why does it feel so wrong? 
Set in a future North America that is struggling to recover after famine and global war, Swipe follows the lives of three kids caught in the middle of a conflict they didn't even know existed. United under a charismatic leader, every citizen of the American Union is required to get the Mark on their 13th birthday in order to gain the benefits of citizenship.  
The Mark is a tattoo that must be swiped by special scanners for everything from employment to transportation to shopping. It's almost Logan Langly's 13th birthday and he knows he should be excited about getting the Mark, but he hasn't been able to shake the feeling he's being watched. Not since his sister went to get her Mark five years ago . . . and never came back. 
When Logan and his friends discover the truth behind the Mark, will they ever be able to go back to being normal teenagers? Find out in the first book of this exciting series that is Left Behind meets Matched for middle-grade readers.
More Information
Length
288 Pages
Who it's for

Boy 7-10
Girl 7-10
Tween Boy 10-12
Tween Girl 10-12

Publication Date
May 1, 2012
Company
ISBN-10
140031836X
ISBN-13
9781400318360
Height
8.2"
Width
5.5"